We remain in an environment where even slight changes in interest rates–in either direction–can have an outsized impact on the number of refinance candidates.
Last week, the Freddie Mac 30-year average ticked down to 3.6%, the lowest level in three months, and about 0.25% above all-time lows.
This pushed the population of high-quality refinance candidates to approximately 9.4 million, according to Black Knight. Remember, Black Knight defines refinance candidates as 30-year mortgage holders with a maximum 80% loan-to-value ratio and credit scores of 720 or higher, who could shave at least 0.75% off their current first lien rate by refinancing.

More than 2.6 million of those folks stand to save $300 or more on their monthly P&I payment.
California and Florida are the two states with the largest number of refinance candidates. Texas, New York, Illinois, Ohio, Arizona, Georgia, Pennsylvania and North Carolina round out the top ten.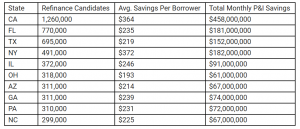 An eighth of a point movement in either direction will change the number of refinance candidates significantly, as shown in the chart.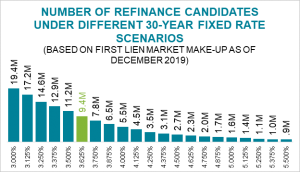 Keep in mind that Black Knight's LTV and credit score assumptions are conservative by design–there are non-cash-out refi products available for borrowers with much higher LTVs and lower credit scores than we use as a baseline.
So, with that caveat: disregarding our eligibility criteria, there are actually some 18.9million mortgage-holders who are "in the money," with current interest rates at least 0.75% above today's rate.