The Trepp CMBS Delinquency Rate crossed another threshold in February as it dipped below 3% for the first time since May 2009.
February's reading clocked in at 2.87%, down 15 basis points from the prior month and a new post-crisis low for the delinquency rate, according to the "February 2019 US CMBS Delinquency Report" from Trepp.
The multifamily delinquency rate increased 34 basis points to 2.31 percent in February, from 1.97 percent in January. The multifamily delinquency rate was 1.67 percent, an increase of 35 basis points.
(Graph Below) CMBS Delinquency Rates by Property Type (Feb. 2019)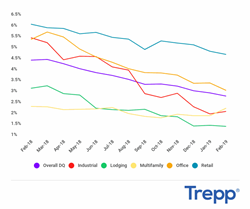 "Delinquencies fell again last month, driven once more by the squeezing out of more remnants from the pre-crisis era," said Manus Clancy, senior managing director at Trepp. "While CMBS 2.0 has generally held up well, there are some pockets of concern that merit watching. In particular, some extra attention should be paid to student housing, grocery-anchored retail, and certain cities like Houston where several large assets are contending with sizable delinquencies."
Although the overall CMBS 2.0+ rate dipped five basis points to 0.63% last month, the seriously delinquent reading for 2.0+ increased eight basis points to 0.60%. Delinquencies among CMBS 1.0 continue to slide as its overall rate dipped another 45 basis points to 44.83%. That reading has dropped 301 basis points since March 2018.
February's greatest month-over-month improvement by major property type belonged to the office segment. The office reading shed 34 basis points last month and now clocks in at 3.13%. Retail still has the worst performing rate among property types, but its reading fell once again in February. With its most recent decline of 15 basis points, the retail rate now sits at 4.77% and has improved in each of the last five months.