While U.S. mortgage rates remain near record lows, they have now risen for the first time in six weeks. So reports Business Insider.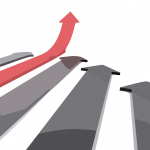 According to Freddie Mac, the 30-year fixed-rate mortgage averaged 3.01% for the week ending July 23, up three basis points from the previous week. That was the lowest since records began in 1971.
Mortgage rates typically move in tandem with 10-year U.S. Treasury bond yields, which have tumbled amid investors' flight to safety since the coronavirus pandemic hit in March.