February's mortgage delinquency rate ticked up slightly from January's record low, but remained more than 15% below where they were at this time last year, according to a "first look" at February 2020 month-end mortgage performance statistics by Black Knight.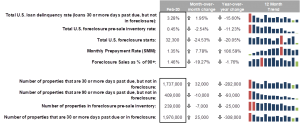 Foreclosure starts fell 25% from January, and 20% from the year prior, to the lowest level on record since we began publicly reporting the metric in January 2000. Likewise, the national foreclosure rate also edged downward in February, falling to 0.45%, the lowest since 2005, and within one basis point of an all-time low.
There are now 1,976,000 loans in some stage of delinquency (30 or more days past due or in active foreclosure). This is down more than 300K from the same time last year, and up just slightly from last month's 14+ year low. Lastly, prepayments rose 8% from January as refinance activity began to ramp up as rates fell.
Black Knight's monthly Mortgage Monitor report, which includes an analysis of data supplemented by detailed charts and graphs that reflect trend and point-in-time observations, will be available online by April 6, 2020 on the Black Knight website.