VA Pauses Foreclosures for 6 Months

The Department of Veterans Affairs has called a moratorium on foreclosures for veterans and servicemembers with VA-guaranteed loans until May 31, 2024. So reports NPR.
matt
Nationwide Title Clearing Inc. was named a finalist in three different categories: National Sales Team of the Year, Woman of the Year in Sales, and Senior Sales Executive of the Year, in the 13th annual Stevie Awards for excelling in Sales & Customer Service, and will ultimately be a Gold, Silver, or Bronze Stevie Award winner in the program.
The awards are presented by the Stevie Awards, which organizes several of the world's leading business awards shows, including the prestigious International Business Awards® and the Stevie Awards for Great Employers.
The Gold, Silver, and Bronze Stevie placements from among the Finalists will be revealed during a gala banquet on Friday, February 22nd at Caesars Palace in Las Vegas, Nevada. More than 600 professionals from across the globe are expected to attend.
More than 2,700 nominations from organizations of all sizes and in virtually every industry, in 45 nations, were evaluated in this year's competition. Finalists were determined by the average scores of more than 150 professionals' worldwide, working in seven specialized judging committees. Entries were considered in 93 categories for customer service and contact center achievements, including Contact Center of the Year, Award for Innovation in Customer Service, and Customer Service Department of the Year; 60 categories for sales and business development achievements, ranging from Senior Sales Executive of the Year to Sales Training or Business Development Executive of the Year to Sales Department of the Year; and categories to recognize new products and services and solution providers.
"The 2019 judges were very impressed by the caliber of this year's nominations, which set another record for this competition. The quality of the accomplishments outlined in every Finalist nomination was remarkable," said Michael Gallagher, president and founder of the Stevie Awards. "We look forward to announcing the Gold, Silver, and Bronze Stevie Award placements in Las Vegas next month."
"It was no secret that the transition from 2017 to 2018 was going to be challenging for everyone in the mortgage industry, given the forecast of significant interest rate increases," said Danny Byrnes, vice president of sales and marketing.  "Our team embraced the challenge and while other companies contracted in both their numbers and employees, NTC continued to expand, out-performing the expected forecast. I am extremely honored to have NTC secure spots as finalists for the National Sales Team of the Year, Woman of the Year in Sales for our Vice President of National Sales, Debbie Lastoria, and an unexpected spot for myself as Senior Sales Executive of the year."
Read more...
Tuesday, 13 November 2018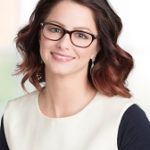 Class Appraisal has hired Julie Jones as senior vice president of valuation transformation and engagement. She reports to Scot Rose, chief innovation officer for the organization.
Most recently, Jones was a member of the Collateral Policy and Strategy team for Fannie Mae, where she led broader outreach, including appraisal process modernization. She forged relationships through an open line of communication, collaboration and transparency. In her tenure at Fannie Mae, Jones also served as a national review appraiser and as a subject matter expert for Collateral Underwriter, appraisal policy, as well as internal applications and procedures.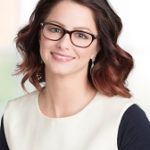 "The company is strategically investing in industry veterans that can help shape the future of the valuation industry, and Julie is an important part of that effort," said Rose. "In her new role, Julie will help develop innovative solutions and facilitate market adoption of those solutions through training, education, and engagement with all stakeholders."
Jones has experience in real estate and collateral valuation. She began her career as an appraiser and real estate agent in North Carolina and has retained her certification as a residential appraiser.
"The company's new innovation organization will focus on much needed research and development in the valuation space," said Jones.
Read more...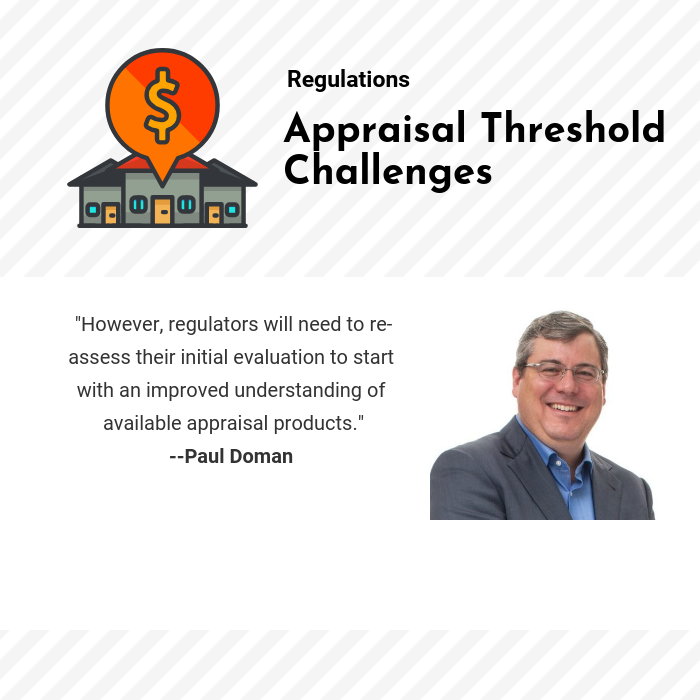 By Paul Doman
 Later this year, the FDIC, the Federal Reserve, and the Office of the Comptroller of the Currency will decide whether to increase the threshold for residential real-estate transactions requiring an appraisal to $400,000, from $250,000.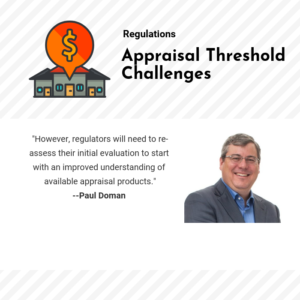 As regulators consider this change, there are four key points that should be addressed:
Is insufficient cost data being used to determine the benefit of raising the threshold? In identifying cost data or analyzing the potential cost benefits of raising the threshold, regulators have relied on schedules of appraisal fees prepared by the Department of Veterans Affairs. It has requirements for appraisals that exceed the Unified Standards of Professional Appraisal Practice requirements, which means the cost of producing appraisals is inflated.
Why do the regulators fail to recognize the value of alternative appraisal products? There is no mention of a range of appraisal products between the Veterans Affairs appraisal and evaluations which are not a full physical appraisal, such bifurcated, hybrid, desktop or limited scope appraisals that may be appropriate to the underwriting if lenders are given more latitude. These would reduce costs while still retaining the services of an appraiser.
Why is there no allowance for regional or localized effects? A $400,000 house is the exception in many markets while, at the same time, common in California and other high-value markets. Rural banks that lend to farming communities may be adversely impacted by external factors that affect rural economies, such as crop values. Simply setting one appraisal threshold without considering local impact might create a safety and soundness issue for some local or regional banks.
Why do the government sponsored enterprises require appraisals on the vast majority of loans regardless of loan amount? The GSEs have not adopted the practice of the agencies, and they still require appraisals regardless of loan amount with limited exceptions for their "waiver" programs. Most appraisal waivers granted by the GSEs are driven by pre-existing data they own on the collateral. While the GSEs have publicly stated that they are considering the use of alternative appraisal processes and products, they have not set defined thresholds based solely on loan amount.
In short, the threshold discussion is being viewed as a binary decision vs. a spectrum, with many variations that might color the decision.
While regulators may be over-inflating the cost savings of increasing the threshold, they certainly are neglecting to consider the implications of bifurcated, hybrid or desktop solutions that would offer lenders a customized selection of appraisal products and services to minimize risk, no matter what the threshold is.
For lenders, a higher threshold would be almost all positive. Although rates have been coming down over the past few weeks, a return to rising interest rates might inhibit lending growth. Lenders need to find efficiencies to save money and improve the borrower's experience to compete more effectively in a changing marketplace.
For appraisers, a higher threshold could reduce the number of appraisals needed. Less volume could negatively impact appraisers and appraisal companies. But this also represents an opportunity for forward-looking appraisers or appraisal companies to optimize technology and to deploy bifurcated appraisal solutions that would enable them to scale to meet the needs of their lender clients and capitalize on well trained, experienced, appraisers.
Allowed access to a full range of appraisal solutions—e-valuations, desktop appraisals, hybrid-bifurcated appraisals and traditional appraisals—the most innovative appraisal management companies stand to benefit from a threshold change. Bifurcated appraisal solutions—the so-called desktop or hybrid appraisal—enable an appraiser to complete more appraisals because technology and the use of local property inspectors alleviates the need for the appraiser to be on site. The result is the ability to complete eight to 10 appraisals a day compared with two or three for an appraiser in the field conducting traditional appraisals.
Raising the appraisal threshold is likely a positive for the industry.
However, regulators will need to re-assess their initial evaluation to start with an improved understanding of available appraisal products. That could provide decision-makers with a much more nuanced approach to determining an acceptable threshold and enable them to better balance business value and risk.
About the Author: Paul Doman is the president and CEO of Accurate Group, a nationwide provider of technology-driven appraisal management, title data, compliance and closing solutions. For more information, visit accurategroup.com.
Read more...