February marks the fourth consecutive month the gap between owner estimates and appraiser opinions of home value has widened, though the difference remains small at a national level.
Appraisal values in February were an average of 0.5 percent lower than what homeowners expected, according to the National Quicken Loans Home Price Perception Index. Home-value perception continues to vary at a metro level but remains in a tight band. Of the metro areas that had average appraisals lower than expected, none of them were more than 2 percent lower than the owner's estimate.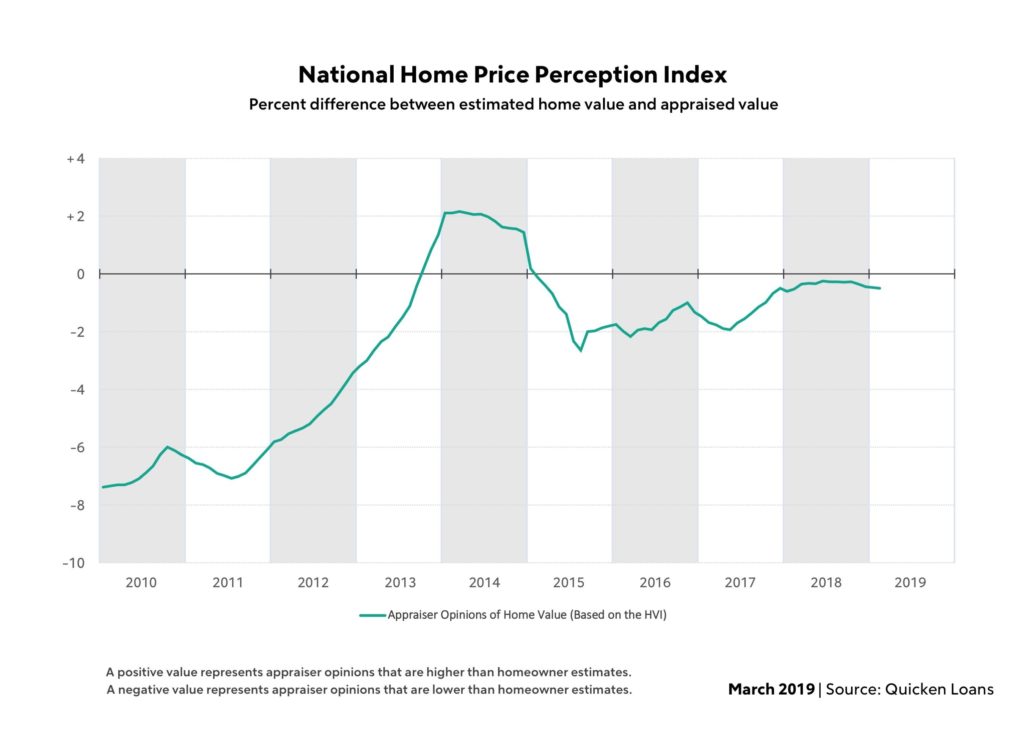 At the other side of the spectrum, Boston is the outlier with the average appraisal 2.51 percent higher than what the homeowner expected—potentially adding more than $11,000 in equity based on local median home prices.
Charlotte follows closely behind, surprising the average homeowner with an appraisal 2.10 percent higher than what they estimated. In total, 62 percent of the metro areas are reporting average appraisals higher than expected.
"Even though the home value perceptions are declining at a national level, the majority of metro areas are getting appraisals at, or above, what the homeowner expected," said Bill Banfield, executive vice president of capital markets at Quicken Loans. "This is particularly exciting news at a time when we are seeing heightened interest in cash out refinances. More and more, owners are choosing to invest in their home by making improvements instead of moving. If appraisals are higher than expected, an owner could find it more [affordable] to do the home improvements they always had in the back of their mind."
Home values were practically frozen in the height of winter. The National Quicken Loans Home Value Index, which measures of home value changes based on appraisals, reported the average appraisal increased a mere 0.05 percent in February. Annual growth continues to be strong, with year-over-year growth of 5.47 percent–increasing at a higher clip than in January.
The regional appraisal changes are mixed.
No region saw appraisal values swinging more than half a percent in either direction. Appraisals were an average of 0.33 in the West and 0.50 in the Northeast. However, values dipped 0.25 in the Midwest and 0.56 percent in the South. On the other hand, all regions have year-over-year growth in common, from a 3.72 percent increase in the Midwest, to a 5.60 percent jump in the West.
"Home values are still making modest annual gains, despite being practically stagnant when measured monthly. What everyone has their eye on is what will happen as the spring selling season kicks off," said Banfield. "Home prices, and in turn home values, are mostly driven by the balance of how many homes are on the market and the volume of buyers vying for them. Most of the industry is expecting the demand will remain high, like in years past, but what remains to be seen is how many owners will choose to list their home, creating availability for both first time and move up buyers."