Event Overview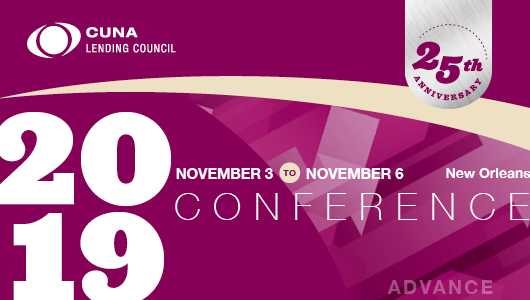 CUNA Lending Council Conference brings together the credit union movement's best and brightest in lending.
By attending inspiring keynotes, taking part in thoughtful discussion and breakout sessions and networking with their peers, attendees will discover new ways to make their lending programs more effective, efficient and compliant.
To qualify to attend a CUNA Council Conference, an individual must hold a staff or volunteer position with a credit union, credit union league, or organization affiliated with WOCCU. Attendees with CUNA member credit unions receive a significant discount and CUNA Council members receive an additional 25% discount (Council membership eligibility applies) on the conference registration rate.
Businesses (vendors) that serve credit unions may attend the conference as a sponsor, subject to availability. Those not employed with a credit union who are interested in attending should contact us to confirm eligibility prior to registering.
Pre-Conference Workshop – credit union attendees only.
About CUNA
When & Where
From: 2019-11-03 12:00 AM
To: 2019-11-06 12:00 AM
Location: Sheraton Hotel


New Orleans, , La.
Organizer Social